Meetings
MEETING LOCATION
General Meetings are held on the first Thursday of the month at 8:00 pm, except April(Awards Banquet) July, August and December(Holiday Party). Our Program Chairperson provides the membership with an interesting session at 7:30 P.M. at each of our regular meetings. Although sometimes on the lighter side, they are usually educational and presented by experts in their fields – veterinarians, handlers, judges etc. In the field of dogs, there is no end to learning. If you are interested in learning more about the LVKC, Inc., we invite you to attend our meetings as our guest. Please contact our membership chairperson Fran Jarvis at (610)867-7796 between 2:00 PM and 8:00 PM for more information. If you are interested in presenting a program please contact Pat Temarantz Mickowski at (H)610-625-4233(C)610-248-8384
Our meeting site is at the Ramada Inn, 1500 MacArthur Road, Whitehall, Pennsylvania 18052 . 
2018 Annual Membership Dues must be submitted by June 30, 2018
Have a safe summer. Our next general club meeting is September 6, 2018
Previous Programs:
February 1, 2018
The Story Telling Contestants read their stories and a winner was chosen by the committee.
Meeting October 5, 2017
Janie Hecker presented the Greater Swiss Mountain Dog
Meeting June 1, 2017
 Rocco and Andy presented a program on the club finances. 
May 4, 2017
 Tails of Valor presented a wonderful program.
April 6th
Awards and Membership Appreciation Banquet 
March 2, 2017
Dr. Donna Gigliotti presented a program on how to choose and fit the right collar and harness to maximize your dog's comfort and performance. Members brought their own collars to the meeting for Dr. Gigliotti to evaluate. Various collars were available for her review. Dr. Gigliotti presented previous programs for the club and was invited back by popular demand.
January 2017
  Tom Nardone, PR Chair, introduced the six Storytelling Contest semifinalists who presented their essays based on the theme "You Won't Believe What My Dog Did!" The students represented three area School Districts. From the middle schools, grades 5 through 8, Maggie Mauro from Northwestern Lehigh read her essay entitled "Atticus and the Amber Alert" about her Newfoundland Atticus that found the missing Amber Alert child Chase who was lost in a snowstorm, Brandon Smeltz from Northwestern Lehigh read his essay entitled "Sparky and the Wild Coyotes" about his dog Sparky that was attacked by wild coyotes, and Zoe Weidman from Kutztown read her essay entitled "The Dog Journal" about her two poodles Fergus and Fizzy that consisted of ten entries from their faux daily journal. From the high schools, grades 9 through 12, Christopher Hippensteel from Northwestern Lehigh read his essay "Blitz Who Made Our Family Whole Again" about a series of calamities that stressed out his family and how his shelter dog Blitz bought the family back together, Juliana Maffea from Bethlehem Area read her essay "If You Have A Chance To Get A Dog … Take It" about her sister's active involvement with pit bull rescues and how Juliana learned about the responsibility of dog ownership, and Josh Christianson from Bethlehem Area read his essay "Ava And Canadian Doggie Heaven" about his Labrador Retriever Ava's adventures on vacation at a lake across the US border. The six semifinalists will present the essays to the audience at CLE during the Sunday programs.
November 2016
The annual white elephant auction was held. Suzanne Warfield was our auctioneer. She did a great job, as usual. Thanks Sooz!
This year's auction earned $226.50. These earnings are used to offset the cost of our annual Holiday Party. Thanks to all of our members and guests who participated in this year's auction, either through donations or bidding or both. Your participation is an asset to our club!
October 2016
The guest speaker was Marilyn Yacobovsky, the founder and CEO of PawPointer LLC, who presented a PowerPoint program on PawPointer.com, a website that she's creating that will list vetted, reputable breeders online. Marilyn explained the vetting process for her site – she screens breeders by phone and then meets with them in person, checks the condition of their dogs and takes photos, adds only reputable breeders to the site along with the photos, and then introduces buyers to the vetted breeders through the site. Following her presentation, Marilyn answered members' questions about her site and vetting process. Members who are interested in participating in PawPointers can call Marilyn at (919) 323-7427 or email her at Marilyn@pawpointer.com.
September 2016
The guest speaker was Cheryle Troxell, CCEMP, CESMT, a certified canine and equine massage practitioner. Cheryle explained that she works closely with Dr. Donna Gigliotti at Macungie Animal Hospital (MAH) to determine whether your show dog will need chiropractic or massage therapy, or a combination of both. She explained that chiropractic therapy is used for adjustments while massage therapy is used for balance. Massage therapy is also good for relaxing muscles and increasing blood flow, and helping with conditions such as arthritis, anxiety, tension, and stress. Massage therapy is also often used along with physical therapy.
One of the receptionists from MAH brought her dog with her to assist Cheryle in demonstrating how massage therapy helps with anxiety for a dog wearing a cone following surgery. The dog was also used to demonstrate warm-ups (rubdowns) and stretches (for range of motion).
Cheryle explained that massage is a natural instinct. You'll be able to determine what works for your dog – your dog will guide you. She also explained that moist heat is a relaxant for chronic injuries while ice is a relaxant for acute injuries. She also explained that diluted lavender oil is calming for pets. Cheryle also pointed out not to use massage therapy for a recent injury or on an aggressive animal.
To become a CCEMP, Cherlye took an online course for 6 to 8 months and a 5 day course for hands-on training, which consisted of on-the-job training on dogs at a shelter. Massage therapy costs are $50 for a house call, which dogs prefer, and $35 for an appointment at MAH. To schedule an at-home massage with Cheryle, call 610-763-9088 or email cheraf83@gmail.com. To schedule a canine message at MAH, call 610-421-8381.
June 2, 2016
A program was presented on the American Pitbull Terrier
May 5, 2016
Pocono Mobile Vet Service Casey T Weiss, DVM
March 3, 2016
Educational program was an obedience demonstration by Carol McCarthy, an AKC Obedience Judge and the owner of the K9s-R-Fun Dog Training School in Bethlehem, and Carol Zimmerman, a retired DVM. The entertaining obedience demonstration featured Carol M.'s Dachshund puppy and senior Basset Hound and Carol Z.'s Jack Russell Terrier.
February 4, 2016
Club member Charlotte Grier  presented the Newfoundland.
January 7, 2016
Dr. Donna Gigliotti DC has been working on animals in conjunction with local veterinarians since 1997 when she received her basic certification in animal chiropractic from the American Veterinary Chiropractic Association (AVCA). She then went on to complete her advanced animal chiropractic certification through the AVCA. Dr. Gigliotti has completed a 700+ hour course in advanced animal neurology which will eventually lead to a master's degree. Over the years, Dr. Gigliotti has completed numerous seminars and classes in neurology, biomechanics and energy therapies. She has also trained with leading practitioners in those fields to improve her knowledge and skills.
Dr. Gigliotti uses a combination of low-force gentle techniques, modalities and exercises to help your animal achieve its maximum health potential. The work she does via the nervous system impacts the functioning of the entire body including the joints, muscles and ligaments, resulting in a stronger and healthier animal.
November 5, 2015
White Elephant Auction.
October 1, 2015
Rod Beckstead,  RAVENSWOOD Kennel presented his rare breed the Nederlandse Kooikerhondje
 Presentation on the Nederlandse Kooikerhondje by guest breeder Rod Beckstead of Ravenswood Kennel featuring his 8 year old male "Iron".
The Nederlandse Kooikerhundje is a rare breed from Switzerland. It is currently in the AKC Miscellaneous Class and has been assigned to the Sporting Group designation. There are currently only 338 Nederlandse Kooikerhundje and 6 breeders in the US. Rod explained the breed's duck hunting work, standard, temperament, abilities, and its few health concerns. The Nederlandse Kooikerhundje is known as a "Dutch Decoy Dog". Using its white tail, the dog lures ducks to the kooiker (duck hunter) by leading them along wetlands and canals into the kooi (duck trap), like the legendary Pied Piper of Hamelin. It is the only sporting breed in which the game follows the dog.
September 3, 2015
  Hunterdon County Animal Response Team, known as C.A.R.T.    Presented another perspective as to how a team of volunteers sets up a shelter for animals when people have to evacuate their home because of a disaster…….
             May 7, 2015
Our meeting this month taught us how to use our new defibrillator. Allen Detweiler gave us all a crash course and answered many questions on the use of the new equipment. This is a very important tool for our shows and the more people that know how to use it, the better prepared our club is in an emergency.
February 5, 2015
Cindy Meyers presented a very interesting program on the Chesapeake Bay Retriever with her dog, Rita.
January 8, 2015
Club Members Terry Hilliard, Deb Rudert and Bobbie Dunkling presented the Brittany.
November 6, 2014- White Elephant Sale
October 2, 2014- Kevin Zerwick and Kathy Poole-Price gave a program on their Cloud Nine Pet Memorial Services.
  Kathy and John Price introduced us to the Flat Coated Retriever, discussing this lovely and versatile breed.
September 4, 2014 Upper Macungie Police Department K9 Unit. Corporal Gardner presented his Belgian Malinois,  Zizo. He discussed the duties and training he and his canine partner do.
May 1, 2014- Dr. Sam Ottinger DVM  discussed "In Home Veterinary Care for Dogs and Cats." She discussed her services and fees.
March 6, 2014 –Breed of the month. Mrs. Holly Kilpatrick  presented  the Icelandic Sheepdog. Holly  discussed a serious incident that occurred several months ago when a neighbor shot and killed one of her dogs. The story appeared in local newspapers and news broadcasts. 
November  7, 2013- Annual Holiday Auction made $350.00  with Auctioneer Deb Rudert . Fun has had by all.
October 3, 2013 –
Mary Minnich and her beloved Canine Bryar provided a very informative program to the membership.  Mary shared their amazing story, the impact it had on those who suffered through this horrible disaster and how they were able to help. She showed some amazing photos………..Bryar is one of the few dogs that are with us, and a fine girl she is at 13 years old.
September 5, 2013- Club members Ellen Gallager and Caitlin Gallager presented a wonderful program on the Shetland Sheepdog, with their dog Travis.
 June 6, 2013- Club Member Gail James presented the Rhodesian Ridgeback. Thank you Gail.
May 2, 2013- "Using the K-9 for Search, Rescue and Recovery: Finding the Lost and Recovering the Evidence"
Join David Albertson and his K-9's Pash and Bear as he talked about training methods, the difference between tracking and air-scenting, live scent verses cadaver scent, environmental challenges and presentation of several actual cases involving a lost Alzheimer's patient, a deceased cross-country skier and several homicide cases.
David Albertson, NREMT-P, EMT-T
David is a nationally certified paramedic who provides pre-hospital medicine for a community-based emergency medical service (EMS) and is a team paramedic for several local SWAT teams. David has extensive experience in K9 search and rescue in the wilderness, water and urban environments, having responded to over 80 missions including lost victims, suspected drowning, a building explosion and many homicide cases.
April4, 2012 – Awards Banquet Look for photographs soon on the Awards and Appreciation Banquet
March 7, 2013- Canine Partners for Life, Service Dog Owner Jenette Lesher and her Labrador Retriever Jenna demonstrated how Jenna assists Jenette with her everyday challenges. Their program was very informative.
Click to enlarge the photograph above.
February 7, 2013-Follow Your Nose: Fire Department Arson Dog, Allentown Asst. Fire Chief Lee Laubach introduced us to "Judge" aka "Judgement" when he gets ready to work.  Judge was taught to sniff out over 60 types of fire accelerator's such as diesel fuel and lighter fluid. He helps firefighters pinpoint the source of fires. Judge demonstrated his skillful sniffer.
January 3, 2013- Karen and Jack Loch  presented their Giant Schnauzer, Troy. It was a very interesting program.
December 6, 2012- Holiday Party and White Elephant Auction – Holiday Party
September 6, 2012- Thank you to fellow club member, Dr. Pam Mueller for a wonderful program on Agility.
June 7, 2012 – Thank you to fellow club member Lynne Kuczynski Veazie, for presenting a wonderful program and video on Tracking.
May 3, 2012 -Thank you to our fellow club member Anna Schwartz, for presenting an enlightening program on The Papillon.
March 1, 2012- Our program was presented by Royal Canin. Dr. Melinda Fleming from Mississippi spoke on canine nutrition along with District Managers Chuck Mackatura for Pennsylvania and Trey Keene from Colorado. This was a very informative program.
February 2, 2012 – Suzanne Warfield presented the happy, little and playful Japanese Chin.
January 5, 2012 – Clydette Lobach was under the weather. In her absents Berdell Koch discussed the new AKC Optional Titling Classes in Obedience. Thank you Berdell for a very interesting and informative program.
*Due to an error, photographs of this presentation are unavailable.
November 3, 2011 – White Elephant Auction with our auctioneer Deb Rudert was such fun. We made over $200.00 which will help pay for our annual Holiday gathering next month.
October 6, 2011 -Dominic DiBalsi, Show Chairpersons Denice Van Dreisen, Deb Rudert and Susan Funk discussed how to coordinate a LVKC Point Show. A slide presentation outlined the topic and addressed the finer points of running a point show.
September 1, 2011 – Sabina Hower, service dog trainer, spoke about what she looks for when breeding and training a service dog.
LVKC Financial Program was presented by Rocco Spinelli. The program was extremely informative.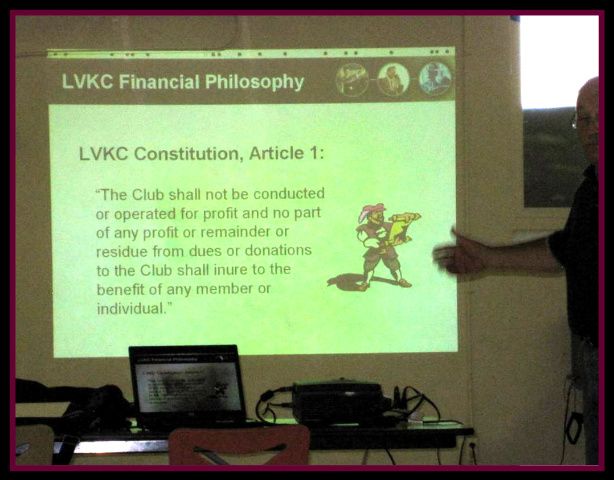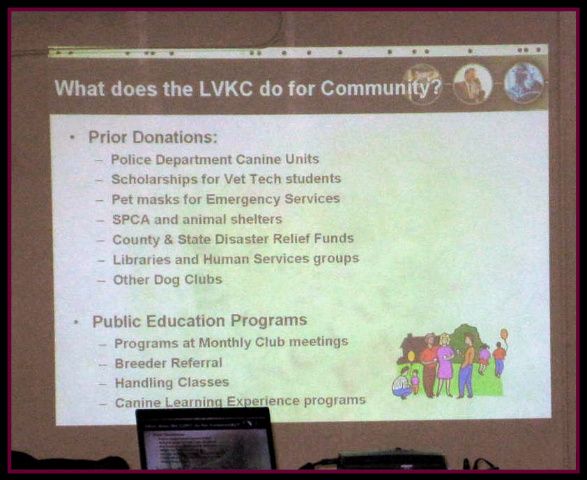 May 5, 2011 – Nancy Vollmer presented the Rottweiler. The program was extremely informative.
March 3, 2011 – Dr. Pamela J. Mueller PhD, DVM, presented Physical Rehabilitation and Water Therapy. Dr. Pam Mueller discussed canine rehab, conditioning and fitness. A slide show was shown which included, what conditions are treated, body work, water exercises, energy healing and the tools they use. It was a great learning experience. Thank you Dr. Mueller for a wonderful and informative program.
Thank you to the Wright's Veterinary Medical Center and Companion Animal Campus.
Thanks to club member Fran for the wonderful cupcakes.
February 3, 2011 program
Gustave Schwabe, D.V.M, Pleasant Valley Animal Hospital, spoke about the Penn Hip, Univ of Penn Hip Improvement Program, using physical therapy, rehab, stretching and conditioning. This was a wonderful and informative program.
The Siberian Husky was presented on 1/6/2011 by club member and owner handler Dominic DiBalsi. Thanks Dominic!